5 Ways To Keep Your Kids Safe and Warm While Sledding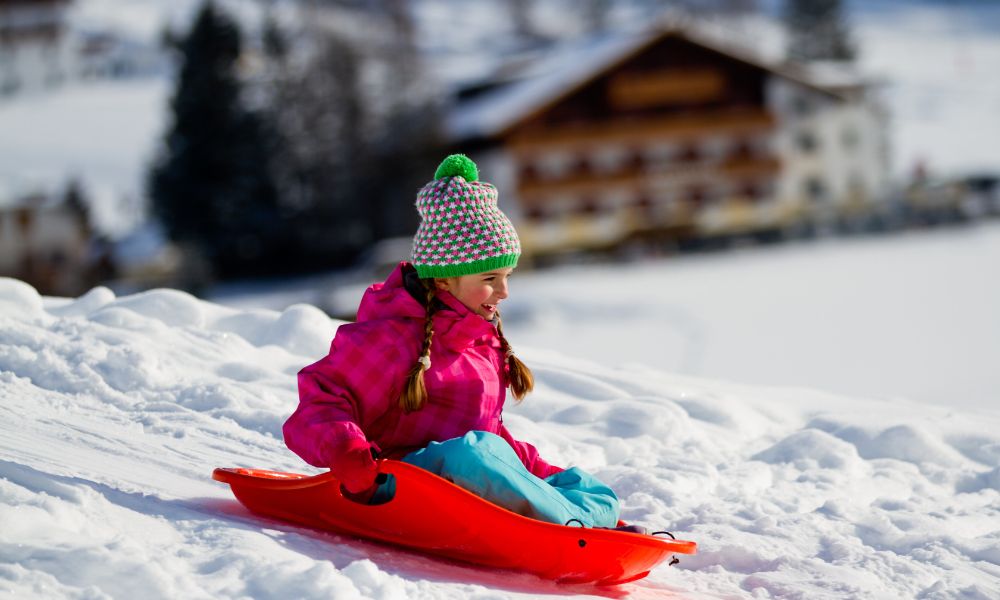 A sunny snow day is perfect in every way. You can't wait to take your kids out to experience the dazzling snow! Before lacing up their boots and zipping up their winter coats, remember that your children need additional protection when sledding. Read these five helpful ways to keep your kids safe and warm while sledding in the winter.
Dress the Kids in Several Layers
Choosing the right outdoor clothing and accessories is a must when sledding. Children lose heat faster than adults, putting them at a higher risk of hypothermia or frostbite. Kids need to be bundled up extra tight!
Start with moisture-wicking base layers, such as a long sleeve shirt and long pants. At Hot Chillys, our youth Moisture Transfer Fibers comfortably remove sweat while keeping your child's core temperature warm. Many parents love to add a base layer for additional coverage when trekking outside on a snowy day.
Add a thick sweatshirt and a pair of sweatpants. They will reinforce the strength of the base layers and keep your kids extra warm. Finish off their snow outfit with a heavy winter coat, wool socks, and strong snow boots.
Don't forget about a fuzzy hat, scarf, and waterproof gloves. If your child gets cold very easily, offer to add double layers to any of the accessories.
Demonstrate How To Sled Safely
Children see a sled and can't wait to go full speed down the hill! Before your family reaches the sledding spot, have a conversation, and demonstrate how to sled safely.
Show them the proper way to sit: feet first and sitting upward. Explain that this position will protect their heads from injury. Avoid snow disks because they're tricky to steer and put children at higher risk of harm.
Always Keep Your Eyes on Your Kids
The excitement of sledding makes children run wild and reckless. Sleds zip down the hill, and kids tumble around. You never want to risk an injury while having a fun day outdoors.
As parents, it's up to you to watch your kids roam the sledding hills. Watch over them as they sit on the sled and ensure they're in the correct position. When they rush down the hill, be aware of their actions and surroundings to protect your kids and others from harm. If anything goes wrong, you're prepared to intervene.
Pack Water for a Day of Sledding
Days of intense play cause people of all ages to become dehydrated quickly. Children aren't as conscious of the symptoms of dehydration and will continue to play without drinking water.
Instead of risking your children feeling sick, bring a few water bottles for everyone in the family to drink throughout the day. Schedule breaks to drink water and rest. Then, your kids quickly return to sledding!
Designate an Area for Indoor Breaks
The freezing cold might be too much for kids to handle. While they're having the time of their lives, they may not notice their bodies are terribly cold.
Designate an area nearby for indoor breaks. If you're sledding in your backyard or at a friend's house, go inside the house or garage for a warm break. If you're at a park and there isn't a building nearby, you can warm up inside your car.
Your family deserves a fun day in the snow, so it's crucial to know these ways to keep your kids safe and warm when sledding.
---