What You Should Wear on Your Next Winter Hike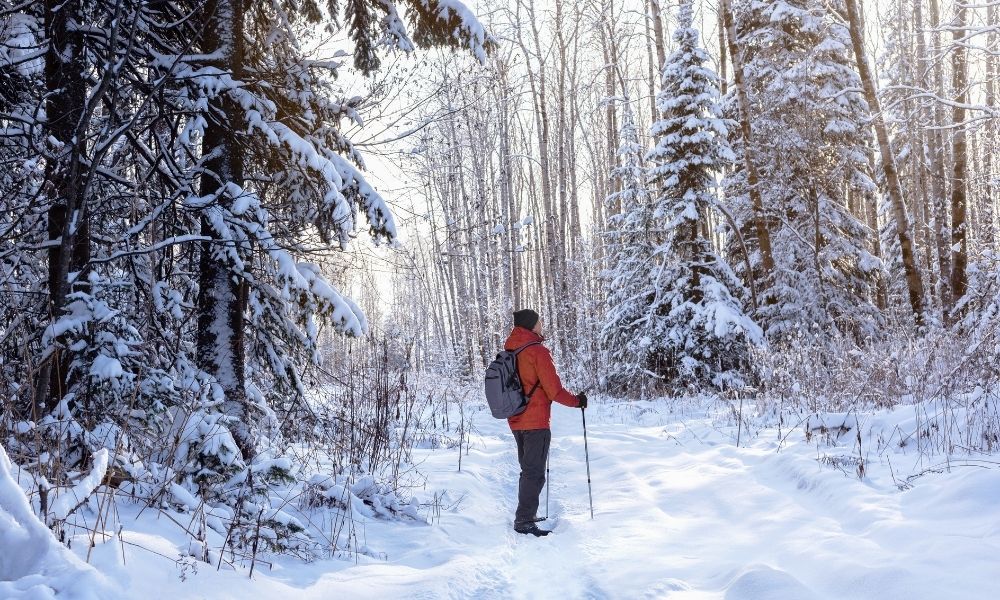 Winter can be unforgiving when it's at its worst. For this reason, you should always have the right knowledge and gear whenever you're choosing what you should wear on your next winter hike. Preparedness for the seasons is always in your best interest before you venture out.
Layering as Best Practice for Winter Hiking
Understanding layering can prove to be vital to survival and a successful hike. Wearing layers for hiking is especially valuable in winter conditions. Knowing the layers and what purpose they serve will give you the tools you need to equip yourself in any winter weather moving forward.
The Base Layer
When assembling your winter outfit, first consider the base layer. It will help your body regulate its temperatures so that you will not overheat or freeze. The best materials for an effective base layer are wool or synthetic thermals.
The Middle Layer
The purpose behind the middle layer is to trap the hot air radiating from your body to keep you warm and insulated. A lightweight to middle-level weight fabric will serve you well with this layer. The middle layer should never be optional but rather a mandatory item.
The Outer Layer
Also known as the shell, the outer layer protects you from the elements. The correct shell will also help you withstand the cold air and water. You'll need to stay both dry and warm, so having an all-weather coat or jacket would be in your best interest.
Rucksacks To Carry All the Essentials
Carrying a large backpack is always wise when you're hiking in frigid conditions. Having the ability to carry essential items may make the trip more enjoyable. When winter hiking, consider an extra set of clothing and layers in case yours get wet or soiled from the hike.
Organize your rucksack according to the type of trip you're taking. Think about the terrain, weather, geography, and distance between destinations before you pack. Here is a list of basic materials you might take on your next hiking adventure:
Boots
Wool/thermal socks
Hats
Gloves
Buff or gaiter mask
Sunglasses
Thermals
Gloves
Jacket
Fleece
Food
Water
First-aid supplies
Sunscreen
Maps
Winter hiking is always an exciting activity to engage in as long as you know how to take care of yourself in the process. Knowing what you should wear on your next winter hike is an excellent example of how to do just that. With the correct information and preparations, there's no reason you can't get out in the sun and snow for an exciting time.
---