The Ultimate List of Winter Running Gear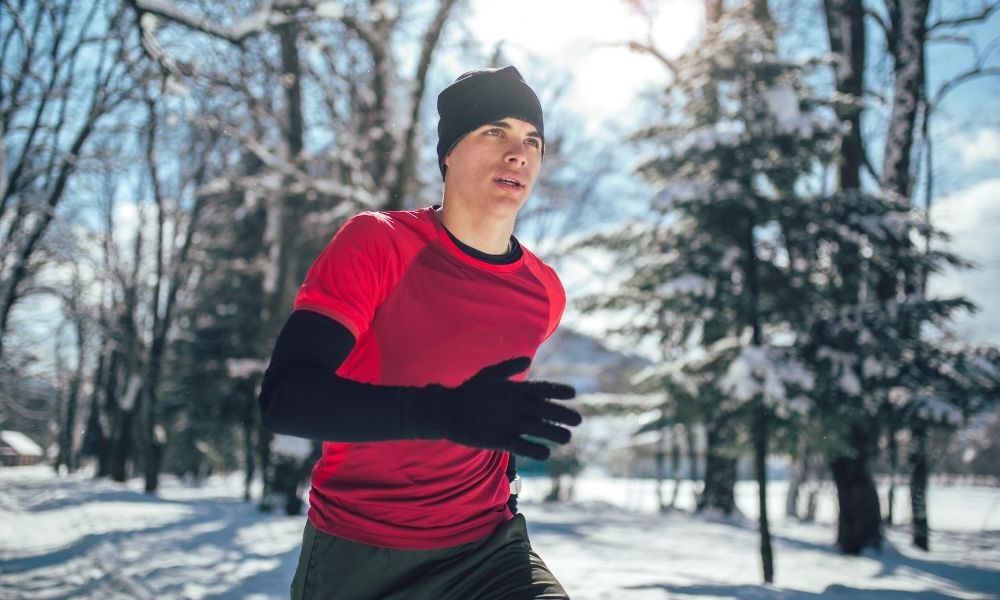 Running is a popular form of exercise that is easy for anyone to pick up thanks to the little equipment or expertise required when beginning. In warmer seasons, it's incredibly easy to throw on a pair of shorts, a T-shirt, and your favorite pair of running shoes. In the winter months, determining what to wear is a bit more difficult. This combined with the cold weather, snow layering the ground, and dark mornings and nights can make outdoor running in the winter seem like more trouble than it's worth. However, once you've found the right running gear, winter running becomes much more enjoyable. That's why we've put together the ultimate list of winter running gear for your reference.
Clothing
The clothing you choose for your winter run is what will keep you warm in cold temperatures, yet cool as you heat up and begin to sweat during exercise. Below are some pieces of clothing to consider when choosing a winter running outfit.


Layers
As with any other winter sport, running requires an appropriate base, mid, and outer layer.
Base Layer
The base layer is the layer that lies closest to your skin. A good base layer keeps you insulated while you exercise, absorbing any sweat or moisture on the surface of the skin. Base layers are usually made of moisture-wicking materials like wool or synthetic materials.
Mid-Layer
When the weather gets below the 40s or 50s, it's time to add a mid-layer to your attire. A mid-layer adds extra warmth to the warmth of your base layer and should also be breathable to help you stay cool and dry. As with your base layer, non-cotton materials are the best choice. Some popular options for mid-layers include light jackets and sweatshirts.
Outer Layer
If it is extremely cold, windy, or snowing, you'll need to add an outer layer to your winter running ensemble. It's advisable to choose a lightweight outer layer since a heavier one can quickly become too hot. Outer layers should also be weatherproof or waterproof to protect you from the elements. When the weather is warmer but it's snowing or windy, a light outer layer can replace your mid-layer.
Tights
As you've probably realized, shorts are not a viable option for winter running. So what should a winter runner wear to keep their legs warm? The answer is running tights or leggings. Because they mold to the shape of your body, running tights provide both comfort and insulation. They often come with pockets in the legs or waistbands, giving you a secure place to store your phone, earbuds case, or house key while exercising. Running tights come in different lengths and thicknesses, making them a great option for running in different temperatures. In very cold weather, try a pair of fleece-lined tights for some added insulation.
Underwear
Your underwear is probably not what comes to mind when you think of running gear, but it's important to consider, especially in very cold weather. Underwear made of cotton will quickly absorb any wetness, leaving you cold and uncomfortable for the remainder of your run. Instead, choose underclothes made of a comfortable wicking material like merino wool or synthetic materials. If you are a woman, remember to also choose a comfortable sports bra made of a moisture-wicking material.
Accessories
Headwear
If your face and head are left exposed to the cold and wind while you're running, they'll quickly become chilly. That's why it's important to choose proper headwear when going on a winter run. Winter headgear can easily be slipped on and off during a run as you become cooler and warmer. There are several good options to choose from, including hats, headbands, and masks. Hats are an all-around good option. Headbands are a good choice in cooler weather when you don't need as much coverage, while a face mask is a good choice for keeping your entire face warm. Regardless of which kind of headwear you choose, it should be made from a lightweight, quick-drying material that will keep you warm even when you sweat.
Gloves
Hands are often the first part of the body to start feeling cold on a winter run, so it's important to keep them well-protected. Chose a lightweight pair of gloves or mittens that will keep your hands warm but isn't too bulky. Mittens are generally warmer than gloves, but be wary of choosing a pair that will cause your hands to overheat. If you'd like to use your phone during your run without taking off your gloves, consider getting a pair that are touchscreen-compatible.
Scarf
Don't forget about keeping your neck warm! If your neck is not already covered by one of your layers or your headgear, choose a warm scarf to protect your neck from the cold. Fleece is a good material for these. If it is very cold, consider layering the scarf over another article of clothing like the collar of your base layer to keep your neck extra warm.
Socks
When choosing a pair of socks, make sure that they offer enough warmth and coverage for your feet and ankles. Due to its warmth and moisture-wicking properties, wool is a popular material for winter running socks. In addition, consider the length of the pants you'll be wearing and make sure that the socks you choose leave no skin exposed to the air.
Shoes
Running shoes are one of the most important parts of any runner's attire. In general, an everyday, well-fitting pair of running shoes will work just fine in the winter weather. However, if it is particularly wet, snowy, or icy, it's a good idea to get a pair of trail shoes, which have more traction and resistance to water than normal running shoes.
Additional Accessories
Running Spikes
If normal running shoes can't provide enough traction in extreme winter conditions, consider purchasing a set of winter running spikes or a traction system. Slip these accessories on over your running shoes and you'll be able to run in even the most treacherous winter conditions.
Backpack or Pouch
If you don't have pockets in your clothing, it's a good idea to have a small backpack or pouch to carry the necessities with you on your run. Make sure the backpack or pouch is light and fits securely so that it won't clunk around when you run.
Reflective Gear
Especially in the dark of winter, it's important for runners to be visible to drivers and other pedestrians. Make sure that your clothing has reflective strips on it or purchase some extra reflective accessories to place over your clothing.
Next time you plan to go on a winter run, reference this ultimate list of winter running gear so you know exactly what to wear in all winter conditions. If you need to purchase any additional outdoor thermals for your winter runs, check out our collection at Hot Chillys. From base layers to socks, we have all the clothing you'll need to stay warm and comfortable on your next winter run.
---