How To Plan a Cross-Country Skiing Trip With Kids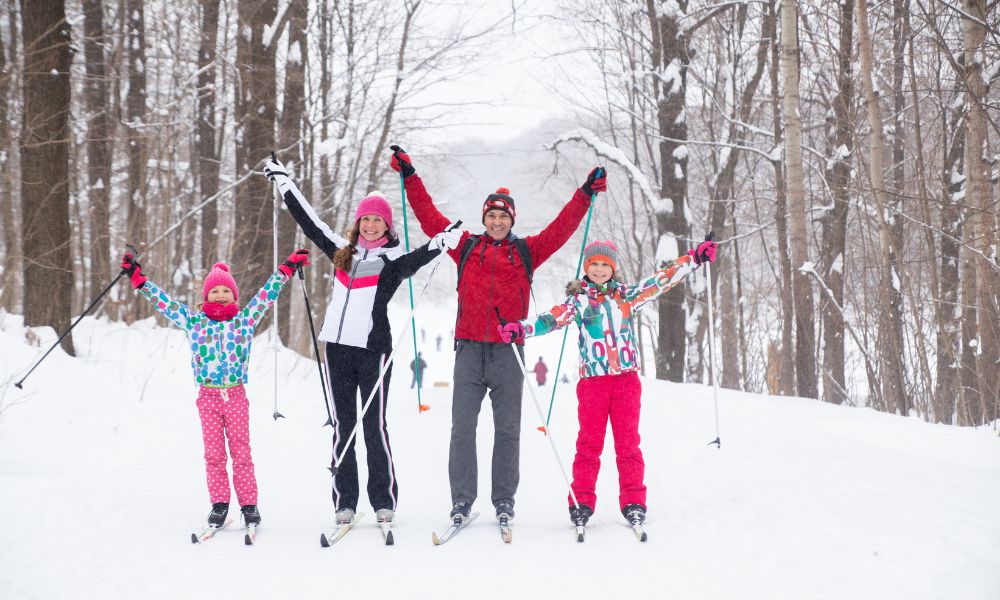 It's not easy planning a family vacation. Some people love to book the hotel and a flight and play the rest by ear! But other families like to have a good sense of what activities they try while on the trip.
Cross-country skiing is a sport you love and want to share with your kids. This is a must on your ski trip, but what other activities and factors should you consider when planning the perfect ski trip? Continue reading to learn everything you need to know and more!
Picking the Right Resort
As you're beginning the planning process, some important factors will help you choose the right resort for this family cross-country ski trip.
Think about every possible fun event and activity your family wants to try. Skiing isn't the only activity you'll want to try. Every resort offers various amenities to create a wonderful vacation for your family.
After considering the different activities you'd like, then begin pricing resorts and setting your budget. A family vacation shouldn't break the bank, but you still want it to be an incredible, cheerful trip for everyone in the family. That means that you may need to dial back on some of the items you planned, but that's okay! Pick the resort and location that has the most desirable activities and amenities to satisfy your family's needs for the vacation.
Warm Clothing
Now that you have a good idea about the many incredible adventures you'll embark on this ski trip, you can create a list of all the warm clothing you need to bring along! Packing for a ski trip is a little different than your average vacation.
Remember that cross-country skiing is a highly aerobic activity. It gets your body moving, causing you to sweat. You need a base layer that cools down your body while trapping heat. From there, you can add on layers like a water-resistant coat, ski pants, wool socks, boots, and gloves. Boots are going to be the best footwear option for the entirety of the trip for all members of the family!
Buy a pair of kids' thermals to start the layering to keep your child warm from head to toe. Children's bodies lose heat faster than adults. Make sure they're all bundled to avoid getting too cold when the family is outdoors for long periods of time.
You'll need warm clothing for both skiing and any other recreational events during the trip. Besides all the layers you need for skiing, you should also bring along warm, comfortable clothing for lounging. Pack a warm hat, jacket, ski pants, and tops. You can't forget about your typical favorite sweatshirts and sleepwear for the trip for those moments when you're just relaxing in the room.
Cross-Country Skiing Essentials
When planning your trip, don't forget the cross-country skiing necessities!
Purchase Ski Lift Tickets
On most trips, everything is booked online—and that goes for ski lift tickets. There's no walking up to a booth and purchasing a ticket in person. Once you pick the location of your trip, purchase a ski lift ticket as soon as you can to ensure your family has a spot reserved to hit the slopes during your stay.
Ski Lessons
Just like you purchased your ski lifts as far in advance as possible, you should also reserve ski lessons. Many young children who have never tried skiing before might want a few lessons to help them out.
Cross-country skiing is easier for children than downhill skiing. A ski instructor will help your child learn the fundamental skills they need to ski on their own by starting them off at a slower pace. As parents, you want to make sure your child has all the information they need to ski safely. Don't worry about the pressure of teaching them on your own.
An instructor will help the kids develop the basic skills and create a good starting point to progress their abilities. Once the lessons are complete, your kids will continue learning and practicing their cross-country skiing skills as you joyfully ski together on the slopes.
Ski Gear
Another item to consider reserving is renting ski equipment. Some items you'll need include boots, skis, poles, and helmets. Don't forget protective eyewear like goggles and clothing items to keep your face warm.
Keep a water bottle in a small backpack. You should also bring along small snacks like granola bars, trail mix, and little pieces of candy to snack on when you need an energy boost.
Lastly, don't forget to use sunscreen and lip balm to protect yourself from the sun's UV rays. The sun reflects off the bright white snow. While it brilliantly shines in the sky, it's damaging to your bare skin without additional armor.
Get To the Slopes Early
Another helpful tip when planning a cross-country skiing trip with kids is to get to the slopes early in the morning. While waking up early with young children isn't ideal, it's the best way to pack in all the skiing fun!
Eat a good breakfast, pack on all your layers, and get to the ski lift. The reason you want to arrive at the slopes early is that it can become busier as the day goes on. Think about a good time you want to start skiing and wake up about an hour and a half before that time to prepare. This gives you time to get dressed, eat, take bathroom breaks, and get to the slopes.
Plan Other Fun Activities!
As mentioned before, you want to try other endeavors besides cross-country skiing. There's so much more to see and more to do! Here are a few ideas your family might enjoy.
Ice Skating
Ice skating is another beautifully amusing outdoor activity that people of all ages adore. When you want to switch up your days, find an outdoor ice-skating rink nearby. One of the best parts about ice skating is that you can stop for a hot cocoa break anytime! Warm up with this deliciously sweet drink and hop back out on the ice. Just like your children love navigating the slopes on their skis, they'll love ice skating too!
Pools and Hot Tubs
When you aren't sure what to do during the night, jump in the pool or relax in the hot tub! The resort should have amazing options that will satisfy your entire family. Your kids can play in the pool while the parents unwind in the warmth of the hot tub.
Games at the Hotel
Pack a few card games or board games to keep the family fun going in the evening, or anytime anyone needs a break from the crazy outdoor activities. Sometimes, it's the small moments spent together that you and your children will remember the most. Sit together while playing games, eating snacks, and relishing in this precious time you have together as a family.
Museums and Nature Centers
No matter which town you choose to vacation in, there is always an opportunity to learn about the history of the area. Many ski resorts will have additional resources to help you find museums and nature centers. Choose one that appeals to you and your family's interests the most. Some might even have an abundance of interactive activities for children too.
While on your trip, don't be afraid to ask questions along the way. Remember to stop for a family photo, and enjoy your days together doing something you all love!
---