What To Wear When You're Ice Skating Outdoors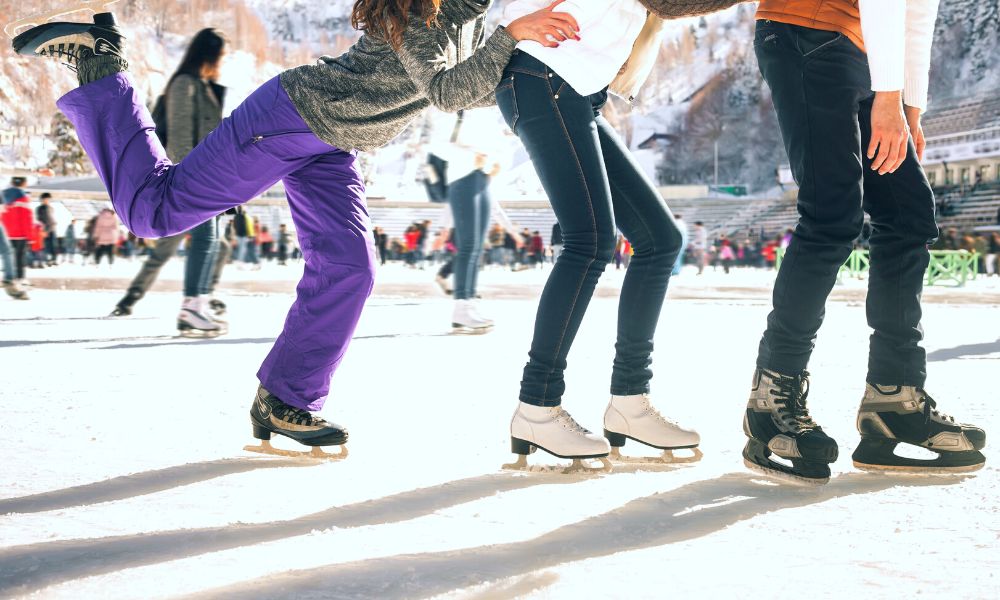 Comfort and warmth are priorities for outdoor activities. When you're ice skating, you need the right apparel to have a wonderful day. Here's a quick rundown of what to wear when you're ice skating outdoors!
Thermal Pants
Tight-fitting, fleece thermal pants are the first essential layer for skating outside. The interior fleece layer is one the warmest materials to keep your legs comfortable as you skate. Thermal pants also are very stretchy and allow ample movement.
While thermal pants should keep you warm on their own, if you need an additional layer, a slim pair of sweatpants is the best option. Remember to avoid anything too baggy or long that may get in the way of your skates.
Jeans are a big no when it comes to ice skating. Tight jeans will restrict your movement and take longer to dry after a fall on the ice. Instead, stick to thermal pants and sweatpants to protect the bottom half of your body.
Sweater or Sweatshirt
A classic winter layer for cold outdoor activities is a sweater or sweatshirt. It'll keep you warm, comfortable, and ready to move out on the ice.
Keeping your body warm is a priority, but too many thick layers can make it harder to move. As you get dressed for the day, find a balance between warmth and mobility. Consider putting on a long-sleeve tee beneath your sweater or sweatshirt just in case you need extra warmth or want to remove layers while skating.
Waterproof Jacket
When you lose your footing and stumble on the ice, you want a waterproof jacket that won't soak up the water and make you feel colder than before. This layer is an additional barrier to the cold. If you feel too warm or constricted by the jacket, you can always remove layers!
Hats, Earmuffs, and Headbands
The goal is to keep your ears and head a little warmer when skating outside. Warm hats come in all shapes and sizes! There's no rule book about which hat is ideal for outdoor ice skating. Choose a hat that makes you feel comfortable and warm when skating.
If you aren't a hat lover, try a warm headband or earmuffs instead. They are great at protecting your ears from the cold and aren't as bulky as a winter hat.
A Pair of Gloves
Everyone loses their balance and falls on the ice at least once when ice skating. You don't want your bare hands to catch your fall. Wear a pair of water-resistant gloves to keep your fingers warm and protect your hands from any slips on the ice.
Face Protection
As your skates glide across the ice, a chill breeze will whip across your cheeks. That's why you need to wear face protection when you're ice skating outdoors. Thermal face masks are vital for extreme cold weather face protection because they guard your vulnerable skin against the cold. It's essential to wear this layer to protect your face while ice skating outdoors.
---